Welcome to Boulee's puppy page. We strive to breed healthy, excellent temperaments, correct in conformation, champion line bred French Bulldogs. I know a lot of breeders claim to have all of the above but here at Boulee's we are able to provide you with the proof that our dogs are healthy, well adjusted. We have been very blessed with a wonderful Vet; with out him we would not be so successful in our breeding program. Our vet Dr. Wilson specializes in reproduction and brachycephalic breeds. He has a state of the art new facility and is able to put our spine x-rays on discs for viewing. He or one of his staff members is also available to take questions in regards to our dogs health.
3 females born December 22, 2016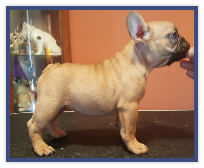 Our puppies come from health screened, correct in conformation parents who have wonderful temperaments to pass onto the next generation. You will find that most of the puppies that are for sale on our site are older than the average pets available on the internet. We do not place any puppies before the age of twelve weeks. More likely our puppies become available between the ages of 4 - 6 months. The reason for this is that we keep our puppies longer in hopes to be able to pick out which ones will be our next champions and which ones will become
We believe they adjust better to their new homes when they have been able to be socialized with their littermates, Sire, Dam and our other adult Frenchies. All of our puppies are socialized, started potty training, are good about nails, ear cleanings, baths, crate trained, leash trained, etc. Our puppies are exposed to as much as possible before going to their new homes.
They are not just crated and left there. We then get to know each puppy's personality so that we know what kind of home the puppy would best be suited for. Not all Frenchies have the same temperament or activity level. We do not believe in the "click and pick" method. Here at Boulee's we screen all potential buyers. We strive to place the right puppies with the right families.